Your car stays for FREE!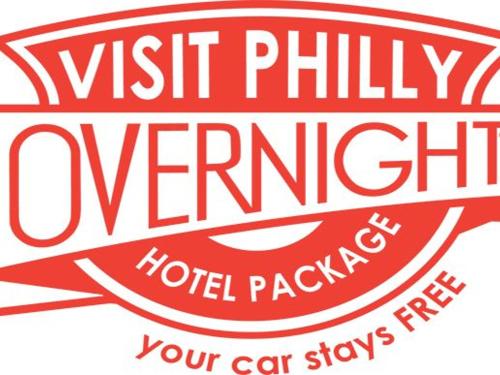 Instructions: To book this package click HERE look under packages on your desired date and choose "Visit Philly Package". Your reservation will be adjusted to show Free Parking and the Visit Philly package.
If you have any questions you can always call us at (215) 546-7000.
Visit Philly Overnight Hotel Package Fall Getaway
One package of perks is offered per reservation regardless of the number of guests or nights stayed. These perks (available while supplies last) are included with Visit Philly Overnight Hotel Package bookings for stays from September 12 to November 30.
FREE Hotel Parking
Talk about a deal: Your car stays FREE at participating hotels. That can be up to a $100 value for a two-night stay at Center City hotels. Philadelphia is one of the most walkable cities in the U.S., so it's easy to park your car and forget about it until it's time to head home.
FREE Tickets to the Museum of the American Revolution
At Philadelphia's newest museum, visitors learn the story of the American Revolution via galleries, films and Revolutionary-era artifacts, including General Washington's Headquarters Tent. In 2019, museum-goers also take part in the Year of Hamilton, featuring Alexander Hamilton-related artifacts and programming. Get two tickets with the fall package (a $50 value).
FREE Tickets to the National Constitution Center
Dedicated to the four most powerful pages in America's history, the National Constitution Center features exhibits, artifacts, a 360-degree live theatrical production, 42 life-size bronze statues of the Founding Fathers, a new permanent exhibit about the Civil War and Reconstruction, and a temporary exhibition about Alexander Hamilton. Two tickets are included with the fall package (a $29 value).
$25 Jose Garces Promotional Card
Jose Garces rose to prominence in the food world after he opened Amada in Old City in 2005. The summer package includes a $25 promotional card that's good for any of the following Garces restaurants in Philadelphia: Amada, Distrito, JG Domestic, Olde Bar, Tinto, Village Whiskey and Volvér.
The popular, purple bus service is a quick and easy way to get to Philadelphia historic attractions and cultural institutions. The fall package comes with two free single-day, all-day-use passes (a $10 value). Note that the PHLASH only runs on Fridays, Saturdays and Sundays in the fall.
*No other offers/discounts can be applied
Visit Philly Overnight Fall Promotion!