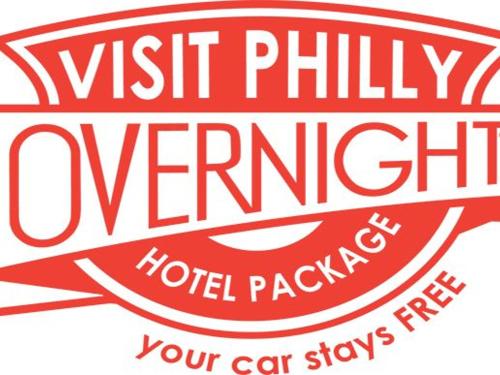 Instructions: To book this package click "Book Now" above right. If the Special Request portion put "Visit Philly". Your reservation will be adjusted to show Free Parking and the Visit Philly package.
If you have any questions you can always call us at (215) 546-7000.
Visit Philly Overnight Hotel Package Spring Getaway
One package of perks is offered per reservation regardless of number of guests or nights stayed. These perks (available while supplies last) are included with Visit Philly Overnight Hotel Package bookings for stays from March 4 to June 13, 2019.
Overnight Accommodations: The Visit Philly Overnight Hotel Package is available for one- or two-night stays, with longer stays available at select hotels. Those looking for stays longer than two nights are encouraged to reach out directly to specific hotels.
Hotel Parking: Every hotel that participates in the Visit Philly Overnight Hotel Package offers free hotel parking. Check with each individual hotel for specific details on how to access and utilize free hotel parking. The value of the free hotel parking perk is estimated to be worth up to $100 for a two-night hotel stay in Center City.
Eastern State Penitentiary: Guests receive the two anytime general admission tickets that include "The Voices of Eastern State" audio tour, hands-on history interactive experience, history exhibits and artist installations at hotel check-in. Guests must bring their tickets to the Eastern State Penitentiary ticket office for redemption. Each ticket is worth $14, and there are two tickets included in the package for a value of $28. Tickets are good for normal hours of operation only. Tickets are not valid for prearranged private tours or promotional events, including Terror Behind the Walls. Tickets cannot be combined with any other discount offers. Eastern State Penitentiary is not recommended for children under the age of seven. Eastern State Penitentiary is closed on Thanksgiving Day, Christmas Eve, Christmas Day and New Year's Day. Tickets expire on April 30, 2021.
SPiN Philadelphia: Guests receive the voucher for one hour of free play at SPiN Philadelphia at hotel check-in. Guests must bring the voucher to SPiN Philadelphia for redemption. Each voucher is good for one hour of free play, which is valued at $39. The free play voucher is not valid during special events. Wait list may apply during peak times. Walk-in only. SPiN Philadelphia is a 21-plus venue after 9 p.m.
Garces: Guests receive the $25 promotional card to Garces Restaurants at hotel check-in. The $25 promotional card can be used at the following The Garces Group restaurants in Philadelphia: Amada, Distrito, JG Domestic, The Olde Bar, Tinto, Village Whiskey, and Volvér. The $25 can go toward patrons' full meal, including drinks, taxes and tip. Garces promotional cards cannot be used at the Garces food stands at Spruce Street Harbor Park. Promotional card expires June 20, 2019.
Lyft: Guests receive the code for the $10 Lyft credit at hotel check-in. Credit available for both new and existing customers. Credit can be used over multiple rides. Credit expires June 13, 2019.
Visit Philly Overnight Spring Promotion!